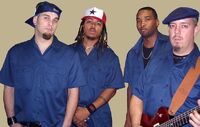 The Black Eyed Peas' band performs live and records songs with the Black Eyed Peas. The band is known as Bucky Jonson .The band consists of:
George Pajon, Jr. - Guitar
Tim Izo Orindgreff - Saxophone, Flute, & MPC
Printz Board - Keys, Bass, Trumpet, & Musical director
Keith Harris - Drums
Some of the members have also worked with various other musicians and have done side projects. Pajon released a solo album, Fried Plantains, in 2003, while Tim Izo and Printz Board are in the group Airpushers.
External Links
Edit
Ad blocker interference detected!
Wikia is a free-to-use site that makes money from advertising. We have a modified experience for viewers using ad blockers

Wikia is not accessible if you've made further modifications. Remove the custom ad blocker rule(s) and the page will load as expected.