Elephunk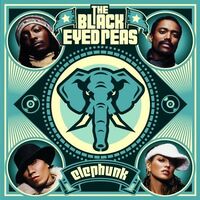 Released   -   June 24, 2003 (US); August 11, 2003 (UK)
Recorded   -   December 20, 2001 - May 11, 2003
Length   -   66:10 (Bonus Track UK)
Label   -   A&M Records
Producer(s)   -   will.i.am
Previous Album   -  Bridging the Gap
Next Album   -  Monkey Business
Elephunk is the third album by Black Eyed Peas, first released June 24, 2003. It was their first commercially successful album, and their first album to feature their new female vocalist, Stacy Ferguson.
International hit singles from the album included "Where is the Love", "Shut Up", "Hey Mama" and "Let's Get Retarded"/"Let's Get it Started." Many of its songs became popular after being featured in television advetisments; "Let's Get Retarded" was redone and renamed "Let's Get It Started" for use in commercials for the 2004 NBA Playoffs and "The Boogie that Be" was featured in several iPod commercials.
Track listing
Edit
"Hands Up" – 3:35
"Labor Day (It's a Holiday)" – 3:58
"Let's Get Retarded" – 3:35
"Hey Mama" feat. Tippa Irie – 3:34
"Shut Up" – 4:56
"Smells Like Funk" – 5:04
"Latin Girls" feat. Debi Nova – 6:17
"Sexy" feat Sergio Mendes – 4:43
"Fly Away" – 3:35
"The Boogie That Be" – 5:12
"The Apl Song" – 2:54
"Anxiety" feat. Papa Roach – 3:38
"Where is the Love?" feat. Justin Timberlake – 3:38
"Let's Get It Started" (only on special "bonus track" editions)
"Third Eye" (hidden track) – 3:43
Bonus Tracks
Edit
"The Elephunk Theme" (German version)
"La Paga" – 3:27 (Latin American version)
"Third Eye" – 3:43 (UK version [hidden track on all other versions])
"Rock My Shit" (UK version)
"What's Going Down" (UK version)
Ad blocker interference detected!
Wikia is a free-to-use site that makes money from advertising. We have a modified experience for viewers using ad blockers

Wikia is not accessible if you've made further modifications. Remove the custom ad blocker rule(s) and the page will load as expected.