Behind the Front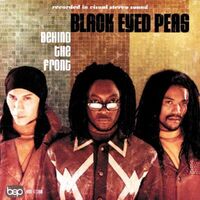 Released   -   June 30, 1998
Length   -   73 Minutes
Label   -   Interscope Records
Producer(s)   -   will.i.am, Paul Poli, C-Los Brian, Lapin
Chart Positions   -  #129 US
Previous Album   -  Grass Roots
Next Album   -  Bridging the Gap
Behind the Front is the debut album from Black Eyed Peas, released in 1998.
Track Listing
Edit
"Fallin' Up" - 5:08
(Skit I)
"Clap Your Hands" - 4:57
"Joints & Jam" - 3:35
"Way U Make Me Feel" - 4:19
"Movement" - 4:42
(Skit II)
"Karma" - 4:28
"Be Free" - 4:06
"Say Goodbye" - 4:01
"Duet" - 4:21
(Skit III)
"Communication" - 5:41
"What It Is" - 4:45
"¿Que Dices?" - 4:01
"A8" - 3:52
"Love Won't Wait" - 3:35
"Head Bobs" - 4:14
"Positivity" - 8:06
There is a three part skit on the album about a fictional game show called The Rap Game, "Where the business is the music, but the music isn't the business". It is hosted by a character named Mitch Rhymestein. One of the questions given to the contestants references their own song "¿Que Dices?".
Ad blocker interference detected!
Wikia is a free-to-use site that makes money from advertising. We have a modified experience for viewers using ad blockers

Wikia is not accessible if you've made further modifications. Remove the custom ad blocker rule(s) and the page will load as expected.