The Black Eyed Peas have increased in fame with their success and, consequently, there have been references to them in other popular culture.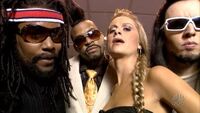 "Let's Get It Started" was the comercial theme song for the 2004 NBA Playoffs.[1]
The Peas were spoofed on Saturday Night Live. The premise was that you can hire them for your next event.[2]
On MADTv, there was a parody of the "My Humps" video about George W. Bush's delcining approval ratings, called "My Slump".
References
Edit