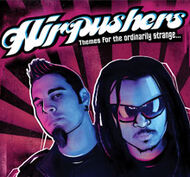 Airpushers is a Jazz, Pop, R&B, Rap, Rock, and Dance group composed of Printz Board and Tim Izo Oringreff.
The history of Airpushers dates back to 1996, when Printz Board and Tim Izo Orindgreff met in San Diego, CA, while Board was looking for a saxophone player for his group, Gravy. The two instantly clicked, and the next year they joined the Black Eyed Peas' live band. In 2004, they decided to start working on their own material. They released their debut album, Themes for the Ordinarily Strange, on September 12, 2006.
References
Edit
External Links
Edit
Ad blocker interference detected!
Wikia is a free-to-use site that makes money from advertising. We have a modified experience for viewers using ad blockers

Wikia is not accessible if you've made further modifications. Remove the custom ad blocker rule(s) and the page will load as expected.